🔍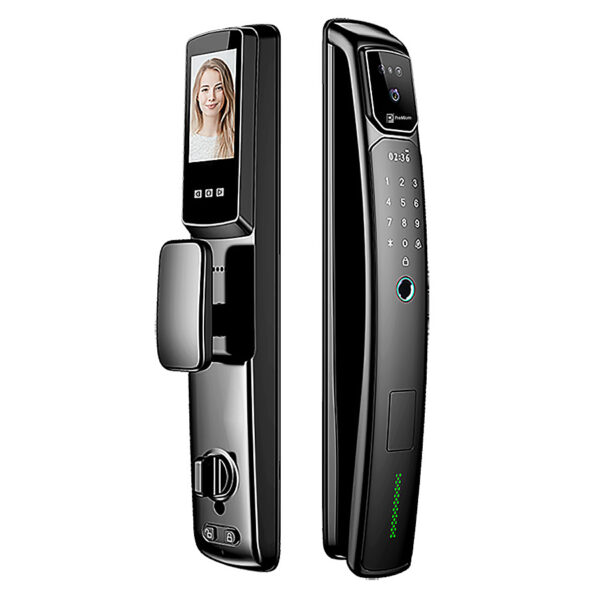 Description
Product Features
Built-in an infrared LEDs dual camera, offers you the zero-peration unlocking experience.
It can easily distinguish the real face and the fake with 3D face recognition technology & Al human detection.
With built-in Wi-Fi module, the visitors press the doorbell, a message will be pushed to the APP instantly. A two-way video call will be started and you can unlock the lock remotely also.
Build-in e-peephole with a 120-degree Wide-Angle view, you can see outside the door when you are indoors.
Built-in infrared LEDs offer you enhanced night vision for clearer night-time images/videos at door easily.
Come with interior 4″ high-res screen, you can see outside the door clearly via 2-way video call soothing.
Anti-kidnapping function: key-in the duress PIN and it will send a duress signal as notification to whole members of your APP group without trigger the siren.
The smart lock recognizes your fingerprint is less than 0.5 second with quickly identify FPC module.
High security to your home and prevent unauthorized entry via multi alarms and send notifications on your phone APP.
To check setting steps, date and time with exterior display.
Anti-pry, anti-Tesla Coils attack & high voltage prevention system.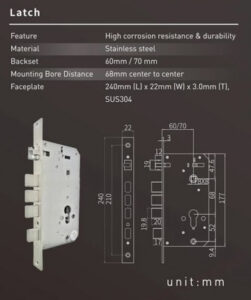 ---
Product Specifications
| project | Specification |
| --- | --- |
| Product Size | Exterior :442mm (L) X 74mm (W) X 56mm (H)Interior: 431mm (L) X 77mm (W) X 76mm (H) |
| Product Material | Aluminum alloy |
| Face Recognition Module | 3D face recognition technology with infrared LEDs, Dual camera |
| Face Recognition Speed Distance | 0.6 to 1.0 sec |
| Face Recognition Distance | 40 to 100 cm |
| Face Recognition Height Range | 120cm to 200cm |
| Fingerprint Recognition | FPC Biometric capacitive touch sensor |
| RFID Card | Mifare 13.56MHz |
| Length of PIN Code | 6-12 digits |
| Length of Fictitious Code | 20 digits (included current PIN code) |
| Token | Master: 9 sets (Included face unlock/fingerprint/PIN code/RFID card) Users 291 sets (Included face unlock / fingerprint/PIN code/RFID card) (Fingerprint up to 100, face unlock up to 50) |
| Memory Capacity | Up to 64GB for 12.800 records floop recording) |
| Build-in IPS Screen | 4" display, 480 x 800 pixels |
| Build-in E Peephole | 120-degree wide angle with night-vision.. 1,280 x 720 pixels |
| Doorbell | Build-in doorbell |
| Emergency Power Supply | Type C charging port |
| Door Thickness | 35-85mm |
| Backset | 60mm/70mm |
| Cylinder | 6 pin, KABA keyway |
| Colors | Obsidian black, Coffee brown, Space Grey |
| Language mode | Chinese/English |
| Alarm Function | Low battery level reminder. Unauthorized access, Anti-kidnapping, Anti-dismantling |
| Ingress Protection Rating | IP 54 |
---